Lea is an author, journalist, photographer, and most of all, a Globe-trotter. Her adventures have been covered in a recent publication now available on Amazon, entitled Got2Go.
She also diligently documents her travels on her popular Youtube channel, including her 90,000 km solo ride over 18 months across 50 countries. Lea, and her trusty motorcycle, have explored some of the world's most beautiful and most remote places.
In 2016 Lea quit her job to tour the world on her motorcycle. Surprisingly, she only got her motorbike license a year prior! We asked Lea about her border and customs experiences and where she might use a Carnet de Passage en douane (CPD) during her travels.
So, Lea, lovely to meet you. Where is your next trip? Do you need a carnet for this one?
I won't! My next trip will be riding the East coast of the United States of America from Miami to Boston. I bought a motorcycle in the USA last year, so I won't need a carnet for that trip. But I hope there will be another journey this year to some carnet countries - because Pakistan, one of my favourite places to visit, requires a carnet.
Have carnets been helpful in any of your trips?
Definitely! I couldn't enter countries as I didn't have a carnet. If you, for example, enter Senegal without a carnet, you have to pay quite some money for the temporary import permit for your vehicle – that you may be able to avoid if you have a carnet.
What sort of encounters have you faced at borders about carnet? Are customs aware of the document?
When travelling West Africa, I crossed many tiny land borders; many customs officers had never seen a carnet before. But I always insist that the document be stamped. I am aware of the complications of exiting a country on a more significant border where customs knows that a carnet is required and then discover it hasn't been stamped. I always share a lot of jokes with the border officers who were curious about the document I brought with me for stamping!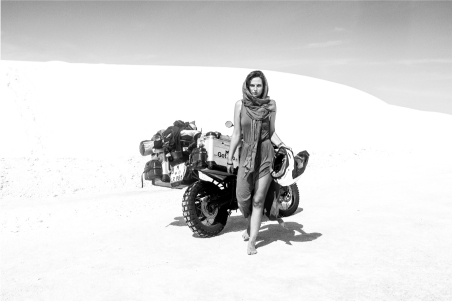 Any strange/comical border experience you can share?
I think one of the funniest border experiences was crossing the border from Guinea-Bissau to Guinea in Africa. I took a tiny road and had to stamp out my carnet at the customs office 30 kilometres before the official border. However, at the border, I had to put my motorcycle on a wooden raft pulled over a river that divided the countries by five guys. After the river experience, I met two locals who told me that the road ahead was treacherous, and it indeed was. It took me five hours to cover 80 kilometres.

You have covered enormous mileage and met so many interesting people, beyond adventure! Any stand-out countries you must go back to?
It is hard to single out one country. I fell in love with so many places. Pakistan is a priority for me to revisit. I didn't have the time to explore the country on my first journey, and I know there is much more to explore. Tajikistan is also a country I must return to, there are wonderfully high mountains and a problematic climate due to the altitude.

What is on the horizon now for you, Lea?
Hopefully, many more adventures and trips. I hope to continue my journey around Africa as this came to an abrupt halt due to COVID; even today so many borders remain closed. I will return one day.
Check out Lea and her incredible adventures on her Youtube channel at https://www.youtube.com/c/Got2Go
Or follow Lea on social media at
https://www.facebook.com/got2go.de