If you love a road trip in a new country, then India is a once-in-a-lifetime experience. The country offers many adventurous routes. Who wouldn't like to explore the roads leading to the cities of Royal Rajasthan? Rajasthan is the quintessential land of the Maharajas, taking in Jaipur, Jodphur, and many other fortress cities. Take a trip through the Madhya Pradesh region, where white tigers roam, or drive precariously through mountainous terrain along the Indian borders of Nepal, Pakistan, China, and Bangladesh.

Travelling with your own vehicle?

A Carnet de Passage en Douane (CPD) for India allows for a tourist's temporary importation of private road vehicles, free of customs duty, for a maximum stay of up to 180 days (6 months). If you are taking your vehicle to India, please note the recent changes when applying for a CDP.
All CPD holders travelling to the country are now required to inform the local motoring club, the Federation of Indian Automobile Association (FIAA), of their entry. Failure to do so will delay the importation of your vehicle .

To prepare for arrival, CPD holders travelling to India must email
a summary of their travel itinerary
a 'no objection letter' from their local motoring club
a scanned copy of the carnet and,
a scanned copy of the driver's license, vehicle insurance, and registration.
These documents must be emailed to FIAA at [email protected] and copied to your motoring club, which has supplied you with the carnet.
India is a signatory to the International Custom Convention and the ATA Carnet Convention, and allows the import of vehicles without payment of customs duties via the CPD.
While this can cause stress for travellers, it is essential to ensure all the documentation is provided in advance, so you are not held up at customs.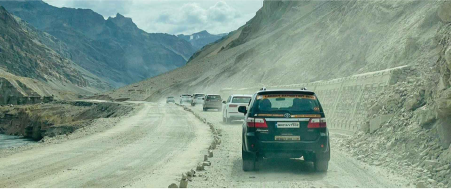 See the sights on a self-drive guided tour.
Another way to explore India is to try one of the many self-drive guided tours with a professional company who can assist with all the necessary paperwork and visas.
Adventures Overland has ten years of experience in exotic locations such as India. Itineraries range from 10 to 28 days exploring routes such as India to Kailash Mansarovar via Nepal and Tibet or India to Thailand via Myanmar.
Motoring clubs such as the Western Indian Automobile Association in Mumbai also offer tourists advice on hotel accommodation and other travel-related products.
To learn more about Adventures Overland's self-guided drive adventures, visit https://www.adventuresoverland.com/
For more tourist information and local support, visit https://www.wiaaindia.com