We're improving our website with an interactive CPD trip planner. Soon visitors will click on the country they plan to visit and read all requirements for vehicle entry.
Our CPD trip planner will advise if you need a Carnet, Temporary Import Authority, or a bond for the country you will be taking your vehicle.
The country information can then be compiled in a PDF form and emailed to you for future reference. We're hoping to launch in a couple of months, so come back and see our new website feature and start planning your global road trip.
After a two-year hiatus, this intercontinental car rally which starts in Europe and ends in Russia is getting ready to kick off in July 2022. While registration has closed for this year, 2023 registration is now open.
There are only a few simple rules. To enter, teams must only use a small unsuitable car of 1200cc engine limited (ideally under 1000cc), and raise at least £1000 for charity. The 10,000-mile road trip is entirely unsupported. This rally is not for the faint hearted!
The Route? The Rally kicks off in Devon in the UK and travels through central Asia (via Europe) and to the finish line in Ulan-Ude, Siberia. Unlike most rallies, success isn't measured in position or time – it's just a matter of getting to the finish line. Needless to say, many vehicles don't quite make it but that's all part of the fun.
If you're in this rally, you will need a carnet de Passage en Douane to travel through Iran or Pakistan. Another important document to accompany you is an International Driving Permit. This will come in handy with border and other customs officials. The IDP is a translation of your existing license, so convenient to have as it is an official UN-sanctioned document. You can never be too prepared for this adventure!
To follow the July 2022 race, check out their Instagram and Facebook page and get planning for an experience of a lifetime in 2023.
https://www.coolearth.org/news/what-is-the-mongol-rally/
If you love a road trip in a new country, then India is a once-in-a-lifetime experience. The country offers many adventurous routes. Who wouldn't like to explore the roads leading to the cities of Royal Rajasthan? Rajasthan is the quintessential land of the Maharajas, taking in Jaipur, Jodphur, and many other fortress cities. Take a trip through the Madhya Pradesh region, where white tigers roam, or drive precariously through mountainous terrain along the Indian borders of Nepal, Pakistan, China, and Bangladesh.

Travelling with your own vehicle?

A Carnet de Passage en Douane (CPD) for India allows for a tourist's temporary importation of private road vehicles, free of customs duty, for a maximum stay of up to 180 days (6 months). If you are taking your vehicle to India, please note the recent changes when applying for a CDP.
All CPD holders travelling to the country are now required to inform the local motoring club, the Federation of Indian Automobile Association (FIAA), of their entry. Failure to do so will delay the importation of your vehicle .

To prepare for arrival, CPD holders travelling to India must email
a summary of their travel itinerary
a 'no objection letter' from their local motoring club
a scanned copy of the carnet and,
a scanned copy of the driver's license, vehicle insurance, and registration.
These documents must be emailed to FIAA at [email protected] and copied to your motoring club, which has supplied you with the carnet.
India is a signatory to the International Custom Convention and the ATA Carnet Convention, and allows the import of vehicles without payment of customs duties via the CPD.
While this can cause stress for travellers, it is essential to ensure all the documentation is provided in advance, so you are not held up at customs.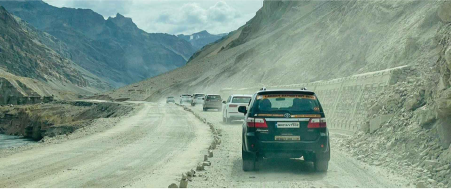 See the sights on a self-drive guided tour.
Another way to explore India is to try one of the many self-drive guided tours with a professional company who can assist with all the necessary paperwork and visas.
Adventures Overland has ten years of experience in exotic locations such as India. Itineraries range from 10 to 28 days exploring routes such as India to Kailash Mansarovar via Nepal and Tibet or India to Thailand via Myanmar.
Motoring clubs such as the Western Indian Automobile Association in Mumbai also offer tourists advice on hotel accommodation and other travel-related products.
To learn more about Adventures Overland's self-guided drive adventures, visit https://www.adventuresoverland.com/
For more tourist information and local support, visit https://www.wiaaindia.com
Lea is an author, journalist, photographer, and most of all, a Globe-trotter. Her adventures have been covered in a recent publication now available on Amazon, entitled Got2Go.
She also diligently documents her travels on her popular Youtube channel, including her 90,000 km solo ride over 18 months across 50 countries. Lea, and her trusty motorcycle, have explored some of the world's most beautiful and most remote places.
In 2016 Lea quit her job to tour the world on her motorcycle. Surprisingly, she only got her motorbike license a year prior! We asked Lea about her border and customs experiences and where she might use a Carnet de Passage en douane (CPD) during her travels.
So, Lea, lovely to meet you. Where is your next trip? Do you need a carnet for this one?
I won't! My next trip will be riding the East coast of the United States of America from Miami to Boston. I bought a motorcycle in the USA last year, so I won't need a carnet for that trip. But I hope there will be another journey this year to some carnet countries – because Pakistan, one of my favourite places to visit, requires a carnet.
Have carnets been helpful in any of your trips?
Definitely! I couldn't enter countries as I didn't have a carnet. If you, for example, enter Senegal without a carnet, you have to pay quite some money for the temporary import permit for your vehicle – that you may be able to avoid if you have a carnet.
What sort of encounters have you faced at borders about carnet? Are customs aware of the document?
When travelling West Africa, I crossed many tiny land borders; many customs officers had never seen a carnet before. But I always insist that the document be stamped. I am aware of the complications of exiting a country on a more significant border where customs knows that a carnet is required and then discover it hasn't been stamped. I always share a lot of jokes with the border officers who were curious about the document I brought with me for stamping!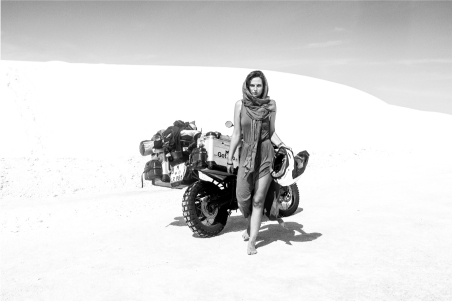 Any strange/comical border experience you can share?
I think one of the funniest border experiences was crossing the border from Guinea-Bissau to Guinea in Africa. I took a tiny road and had to stamp out my carnet at the customs office 30 kilometres before the official border. However, at the border, I had to put my motorcycle on a wooden raft pulled over a river that divided the countries by five guys. After the river experience, I met two locals who told me that the road ahead was treacherous, and it indeed was. It took me five hours to cover 80 kilometres.

You have covered enormous mileage and met so many interesting people, beyond adventure! Any stand-out countries you must go back to?
It is hard to single out one country. I fell in love with so many places. Pakistan is a priority for me to revisit. I didn't have the time to explore the country on my first journey, and I know there is much more to explore. Tajikistan is also a country I must return to, there are wonderfully high mountains and a problematic climate due to the altitude.

What is on the horizon now for you, Lea?
Hopefully, many more adventures and trips. I hope to continue my journey around Africa as this came to an abrupt halt due to COVID; even today so many borders remain closed. I will return one day.
Check out Lea and her incredible adventures on her Youtube channel at https://www.youtube.com/c/Got2Go
Or follow Lea on social media at
https://www.facebook.com/got2go.de
https://www.instagram.com/lea_rieck/?hl=en
The Mongol Rally is an intercontinental car rally that begins in Europe and ends in Ulan Ude, Russia. The rally originally ended in Ulan Bator, Mongolia. However, to avoid punitive costs and taxes associated with vehicle imports and disposal, the rally now passes through Mongolia and ends in Ulan Ude.
Entrants need a Carnet de Passage en Douana if you are travelling through Iran or Pakistan. An International Driving Permit is also highly recommended. If you are not familiar with the Mongol Rally watch the video below from the organizer. It is an extreme adventure and not for the faint hearted. The 2021 program is underway and if you purchased a carnet in 2020, ask your club for a 12-month extension*.
*12-month extension – This can generally be organised with either the carnet country club or customs. Carnet holders can apply for one 12-month extension and then a replacement carnet is required. Permission from the guarantee club, customs and/or CPD country is required.
A Carnet de Passage en Douana is required if you are travelling through Iran or Pakistan. Click Here to contact your local issuing authotity.
Nick Lewis left Australia in 2016 with his Suzuki DR 650 for Asia and Europe via an overland route. Check out the video on Driving cross open border into Thailand and Malaysia.
His first stop was Timor-Leste, he then ferried his way through Indonesia via a wooden junk to Malaysia. From there, it was all overland—from India to Pakistan and Iran before entering Armenia—and most of the borders on the first half of his trip required that little yellow booklet known as the 'the Carnet' or Carnet De Passage en Douane (CPD).
Nick confirmed that the Carnet made crossing borders easy on his trip. "For the most part the Carnet worked well," advised Nick, "there was no need for the temporary import documents in the Carnet countries and there wasn't too much confusion."
However, before driving cross border into Myanmar* he joined fellow travellers to share the cost the bureaucratic burdens. While the group was lucky most of the time, at some checkpoints they engaged a 'fixer' to explain their travel plans to customs officials. It was not always easy to cross borders into non-Carnet countries such as Thailand where you are required to purchase a local Temporary Import Permit (TIP). TIPs can be purchased at border crossings and are only valid for 30 days. To understand all the documents required for a Thai/Malaysia border crossing watch this video.
Fast forward to 2020 and Nick is a little disappointed as his motorcycle remains in Bulgaria. Unable to continue his overland experience, he's back in Australia waiting for his next opportunity to cross borders.
*Self-driving in Myanmar will require permission from the Ministry of Hotels and Tourism or via a travel agent. It is also mandatory to engage a guide. Highly recommended is an International Driving Permit and visa for your stay.
Contact the Australian Automobile Association for information on obtaining a Carnet De Passage.
When Jonathan and Hannah McGregor shipped their Land Rover Discovery to Russia in July 2019 for an adventure across Northern and Central Asia and Europe, they were very well prepared. Arriving in the USA for the final leg of their trip which they hoped would also include a Mexico, it became clear however that due to COVID-19 repatriation back to Australia was prudent and the vehicle was shipped back in May 2020.
The McGregors did however manage nine months of adventure. With their LandRover (pictured above) they travelled several thousand kilometers through many of the 'stan' countries, (Kazakhstan, Kyrgyzstan, Tajikistan and quite a few others) before making their way through Europe. Their adventure is very well documented on their travel blog at globalgregors.com.  As experienced travellers, they have some good advice on insurance and how to be as well prepared as possible for when borders reopen after the COVID-19 pandemic.
Using the Carnet de Passage en Douane (or not)
While Carnet de Passage en Douane (CPD) can be used in many countries, the McGregors found that given the choice, border agents preferred to use their countries Temporary Import Permit (TIP)*. The TIP is typically a computerised process, where the vehicle is essentially logged into and out of the country based on its registration document (eg as a proof of ownership).  In this region, the CPD was mainly used by truck drivers who did not own their own vehicle, and many drivers appeared to have a Russian version of the CPD, so the Australian CPD caused some confusion because it is in English and difficult to interpret.
Despite not actually using the Carnet as intended, the document was helpful at every border crossing. Border agents completing TIP generally need the same basic information: Country of registration, registration number, owner, vehicle make/model, vehicle colour and sometimes engine capacity. The Export Clearance page of the Carnet, and the rather official appearance of the Carnet document itself, helped immeasurably to clear up these confusions and put the border agent at ease.
The million-dollar question, how to insure your vehicle?
Most insurance companies will not provide comprehensive insurance when you export a vehicle out of Australia for travel overseas. However there are agents who will insure foreign tourists travelling in Europe and driving temporarily such as Alessie. Other specialist insurance agents include TourInsure who will cover motorcycles, recreational or heavy expedition vehicles.
Third-party insurance is mandatory in each country although arrangements (and indeed policing) varies. Typically, in any given region insurance providers extend their cover for use in surrounding countries. For example, Green Card insurance purchased in one EU country typically covers most EU countries, therefore travellers only need to purchase it once on first arrival to the EU. Similarly, third party coverage purchased in Russia can be extended if one requests to cover the Eurasian Customs Union.
These third-party insurances are either purchased at booths within or nearby border crossings or purchased online in advance of the crossing. The country that proved hardest to find third party insurance was the USA, where the process is complicated by different states having different coverage requirements, the McGregors used SeguroGringo
Another important insurance is for international search and rescue and medical evacuation, these can be found via GEOS Worldwide and medical insurance through World Nomads.
Advice for travellers
If you are planning to visit remote places in foreign lands with your vehicle, you will need to be prepared. The Global McGregor Blog is essential reading and they have provided a summary of some very important factors:
Know your crossing: Not every crossing between two countries is the same. In fact, generally no two are the same. Crossings mostly used by local traffic will either be super-fast (low wait times) or super slow (unfamiliar dealing with foreigners and/or foreign vehicles). Crossings preferred by cross border truckers will have peak and low periods and typically proficient but binary personnel – annoy them and they will simply turn you around. iOverlander is a great source to understand and select a suitable crossing and the best time to cross.
Smile and keep your cool: Border personnel have a relentless, difficult, and sometimes dangerous responsibility – it is disappointing to see how little respect they are shown. They are often not in the best of moods, turning this around can have a big impact on your crossing. Australian flags on the vehicle, kangaroo business cards and/or Instagram can all be harnessed to build rapport and see you through in a fast and friendly fashion.
Don't have anything to hide: Avoid carrying alcohol in the vehicle and no drugs and/or weapons. Make sure there's no sketchy content on your camera, phone or devices. Point out your camera equipment, drone and two-way and/or satellite radios as in security-conscious areas these are used by combatants. Be conscious of your online persona – it may be prudent to keep your critique of the regime off the internet or at least save it for later.
Be assertive: Truckers cross borders all the time and often encounter day-long waits, more in some areas. They will push you to the end of the queue unless you step up. Again, the best solution is to engage with the border agent in question. For more information visit their FAQ:
*Temporary Import Authority, (TIA) Temporary Import Scheme. Countries that don't recognise a carnet will allow you to enter the country under a Temporary Import document. Generally, these are computerised and enter your vehicle details upon entry and exit. A fine can be made if they don't have a record of your vehicle being exported within the timeframe. It is important to understand the duration of the TIA.
It is important to extend your carnet de passage or a replacement carnet organised with approval of the local motoring club if your vehicle is being stored overseas during Covid 19.
Click here to contact your local issuing authorities 
When the COVID-19 pandemic hit, carnet holders were told to return to their home countries before borders closed.  This created panic and not enough time to have vehicles shipped back to their home countries.  Many carnet holders were told to leave on the next flight and their vehicles were stored in the most convenient places that could be located.
Local customs authorities have had to exercise some leniency in these unprecedented times, however at some point, vehicles will need to be shipped back to avoid a customs claim*
Adam Smith's plan was '13 countries in 12 months' until the pandemic hit.
Adam was somewhere in Uganda when the official advice from the Australian Government came to  'leave immediately'.  With no time to organise the shipping of his Kawasaki motorbike back to Australia, Adam asked a colleague to store it until he could return and hopefully continue his journey across Africa.  We asked Adam a few questions about his trip.
Did you use your Carnet De Passage in your travels?
"Yes, my carnet took me from Australia to Uganda, via South Africa, Lesotho, Zimbabwe, Mozambique, Malawi, Tanzania and Rwanda.  Without it, crossing these borders would have been very expensive as you would need a Temporary Import Permit for each country.  Most border patrols stamped the counterfoils and were familiar with the document.  For those who were not familiar, you could usually guide them through what was needed." 
Any mishaps on the way?
"I strongly recommend ensuring the CPD document is secure. My carnet was travelling in the container with my vehicle, but it fell out on the tarmac in Australia.  When I got to Johannesburg, there were desperate call to have the document flown out to me so I could leave the country and start my journey!"
Where is your vehicle now?
I had to leave it in Uganda, where I plan to go back when the pandemic eases.  The AAA in Australia issued an extension until April 2021, so here's hoping.  I met a number of other travellers with carnets from around the globe, we are all in the same situation, just waiting till we can return to our vehicles."
*Customs claim—when a vehicle is left in a country beyond the carnet date, the local customs authorities will issue a claim to the guarantor club.  The cost of this claim will depend on the age and value of the vehicle.  It is important to have your carnet extended or a replacement carnet organised with approval of the local motoring club.
Overlander: Latest CPD Stories
Welcome to the FIA's Overlander: a blog dedicated to sharing personal stories from Carnet de Passages en Douane (CPD) holders about their travels.